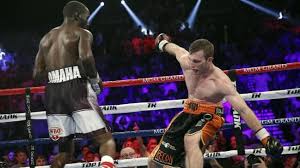 WBO Welterweight Title
Last night, Saturday, June 9, 2018, at the MGM Grand Garden Arena in Las Vagas, Terence Crawford's (33-0, 24Kos) welcoming to the Welterweight Division was a thing of beauty. Terence handed the tuff and rugged WBO Welterweight Champion Jeff Horn (18-1-1 12Kos) his first defeat by systematically breaking him down round by round to a TKO in the ninth round. Unbelievable.
I witnessed a bully in Horn get tamed in a humbled fashion. Horn had absolutely no answer to Crawford's non-stop pressure attack. He was overwhelmed and manhandled from all angles. Seeing Terence move up from the Light Welterweight Division to the Welterweight Division with such ease is a testament to how great of an athlete he truly is.
Horn was simply outclassed inside that squared circle. The smaller but much more cerebral Crawford was levels skill wise above Horn on that night. Crawford showed Horn and the rest of the Welterweight Division that he's here now for the takeover and anyone of the other Champions in the Division can get it.
With this statement win Crawford became the latest inductee as a Three-Division Champion. Nuff Said!
If there was any doubt on whether Terence belonged in the 147-pound Division, all got answered last night. Real Talk! There's a new sheriff in town and he go by the name of Terence "Bud" Crawford the New WBO Welterweight Champion.
The Welterweight Division keeps on getting better and better but peeps need to keep a keen eye on this Kat right here cause he's definitely going to be a problem to the competition ahead.
Until then, congratulations Champ on your empathic victory. Who's next?
Blaze
On The Watch "Its All About Jeff Horn vs Terence Crawford"