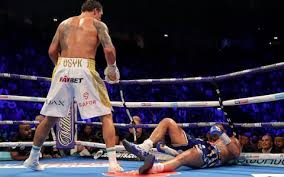 Undisputed Cruiserweight Championship Challenge
Tonight, at the Manchester Arena in Manchester, England, Oleksandr Usyk (16-0, 12 Kos) still remained unbeaten and Undisputed Cruiserweight King after demolishing a very worthy opponent in Tony Bellew (30-3-1, 20Kos).
Tony came out of the gate aggressive and was looking to land heavy punches to the body every chance he got, but the crafty Champion Usyk kept it real cool and level headed round by round. In the early rounds Tony was establishing himself as the stronger fighter between the two but as the rounds wore on, Usyk started to raise his punch output and started landing some effective jabs that bothered Bellew's offence.
Tony was doing a good job trying to box with the better boxer but by the eighth round Bellew was visibly looking tired on his feet and Usyk simply jumped on him and battered him with two heavy left-hand shots that connected perfectly to knock him out for the count.
Tonight, Tony stepped his game up and gave it a good run but as the saying goes there are levels to this boxing sh*t and Usyk proved it once again that he's one notch above Bellew in that category and rightfully Undisputed Cruiserweight King because of it.
That being said, Usyk will now be eyeing the Heavyweight Division as his next big challenge. The year 2019 will be a new chapter for one of the fastest rising stars in the "Boxing Game" to date but until then, enjoy all your great achievements, you deserve it Champ.
Blaze
On The Watch "Its All About Oleksandr Usyk vs Tony Bellew"