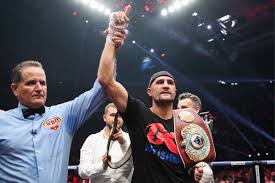 WBO Light Heavyweight Challenge
Today at the Tracktor Sports Palace in Chelyabinsk, Russia, Sergey Kovalev (34-3-1, 29 Kos) withstood a tough challenge from undefeated contender Anthony Yarde (18-1, 17 Kos) to retain his WBO Light Heavyweight Championship by knockout in the 11th round.
It was a tough and exciting bout from start to finish. Yarde, the much younger, stronger and determined fighter came into Kovalev's house (game 7 style) attempting to dethrone the Champion but was met with resistance from the much older but savvy veteran, Kovalev.
Kovalev's ring generalship came into play today. His experience and accurate jab carried him throughout the rounds. Stamina played a big factor for both combatants but surprisingly Kovalev proved to be the smarter conditioned one whom withstood the early onslaught of heavy body punches from Yarde.
Things got a little scary for Kovalev in the eight rounds but Sergey digged deep within and survived his most challenging round of the bout to later stop the young hungry "Lion" with a precise left-hand punch to the dome. Yarde, who was completely exhausted, was unable to answer the count.
This was a good test and an important win for Kovalev. Yarde's inexperience with "A" level fighters may have cost him but the experience he gained today will definitely help him in his future fights and unquestionably proved himself worthy in the 175-Pound Division.
Many had thought that Sergey was ripe for the picking but he proved the naysayers and doubters wrong with another great performance.
Congratulations Kovalev on another great win. You've outdone yourself once again.
Blaze
On The Watch "It's All About Sergey Kovalev vs Anthony Yarde"