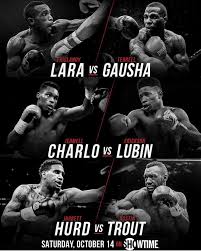 Super Welterweight Division
Wow!!! Last night, Saturday October 14, 2017, Showtime Premier Boxing Champions gave us the fans an incredible tripleheader at the Barclays Center, Brooklyn New York. REAL TALK!
Six of the top Super Welterweights graced that squared circle and all performed stunningly on that stage.
First up was undefeated Jarrett Hurd (21-0, 15 Kos) the International Boxing Federation Titleholder who successfully defended his belt vs former World Champion Austin Trout (30-4, 17 Kos).
This bout was about a young hungry gunner climbing his way to the top of the food chain with no regard to whatsoever to any savvy proven veteran standing in his way. REAL TALK! Trout is a proven warrior and one of the best at that but your Boy Hurd was just too big and strong on that night. Austin brought his "A " Game but was cut short by the 10th round. Hurd's onslaught on Trout was just too much to handle.
Jarrett Hurd becomes the first fighter to beat Austin Trout by knockout or technical knockout. Congratulations on your win Champ.
In the co-feature, (which could have easily been the main event on any other night), WBC Super Welterweight Titleholder Jermell "Iron Man" Charlo (30-0, 15 Kos), also successfully defended his belt in an astonishing fashion by demolishing previously unbeaten No. 1 contender Erickson "Hammer" Lubin (18-1, 13 Kos) in the first round. Nuff Said!
Your Boy Jermell is the truth. The kid walks it like he talks it. He once again silenced all the critics and the haters who just can't seem to come to grip that this kid is the real deal. The 154-pound Division has a real problem on their hands and he goes by the name of Jermell "Iron Man" Charlo. Good luck to the competition. Congratulations Champ!
In the main event, WBA/IBO Super Welterweight World Champion Erislandy Lara (25-2-2, 14 Kos) successfully defended his belts by knocking down previously unbeaten Terell Gausha (20-1, 9 Kos) on the way to a 12-round unanimous decision.
Listen his fight wasn't as exciting as Jarrett or Jermell's previous title fights but we can't wrong the man for making it look so easy cause he's still the top dude in the Division. We all know that styles make fights so lets hope his next performance is up to par to a real Champs standard. Congratulations Champ.
Your thoughts on this one?
Blaze
On The Watch "Its All About Showtime Premier Boxing Champions"