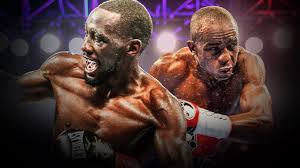 Junior Welterweight Supremacy
There is a very important match up taking place Saturday August 19, 2017, at Pinnacle Bank Arena in Lincoln, Nebraska, that has been flying under the radar due to the "Super Fight" between Mayweather/McGregor garnishing so much attention this Month.
Terence "Bud" Crawford (31-0, 22Kos) WBO, WBC World Super Lightweight Champion and Julius "The Blue Machine" Indongo (22-0, 11Kos) WBA, IBF World Super Lightweight Champion are set to unify the Lightweight Division and establish whom between them will be truly "Undisputed King" at 140 lbs. REAL TALK!
Holding all 4 Belts from each Major Sanctioning Bodies is something that has been lacking in this day and age due to various reasons; sanctioning fees, different networks, different promotional teams, disagreement over purse bids or simply afraid of some really good competition. REAL TALK!
With that being said I can't wait to witness these two fearless Undefeated Light Welterweight Champions go at it on this Historical night. It has been 12 years since an Undisputed Champion has held all 4 Belts in any Division. REAL TALK!
Crawford will have hometown advantage but Indongo has been known to upset the home fighters since two of his belts have been won in a convincing fashion as the visiting challenger.
The odd makers have Crawford as the favorite and rightfully so. Crawford is a "beast" in that ring and he handles his business like the Champ that he is. His skills set are exceptional. The Kid got the goods for sure.
As for Indongo he is the lessor known assassin of the two but definitely not one to be taking lightly, ask his two last highly ranked opponents Edward Troyanovsky previously unbeaten until he ran into Julius and snatched his IBF Title from him and Ricky Burns whom he beat for his WBA Belt both while being on the road. The Man went from a little known fringe contender to top of the food Chain. REAL TALK!
Some people in the Boxing Community are calling this fight a mismatch, but me personally I think that styles make fights; I'm anticipating this unification fight to be an exciting one considering how skillful and precise each opponent is. Your thoughts on this one?
Blaze
On The Watch "Its All About Terence Crawford vs Julius Indongo"