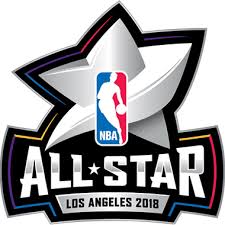 This Year the 67th 2018 NBA All-Star Game will be taking place at the Staples Center in Los Angeles, California, on TNT Sunday February 18, 2018.
To make this Year All-Star Game more exciting and competitive, the NBA has changed the format from the traditional Eastern Conference vs Western Conference to an All-Star Draft-Style format. As usual the starters were chosen by the fans but this time the media and players also had a say to the votes. Captains were able to Draft from the pool of players voted as Starters and Reserves.
Representing The Eastern Conference Starters this year are
-LeBron James (Cleveland) Team Captain
-DeMarcus Cousins (New Orleans) (Now replaced due to injury by Paul George)
(Indiana)
-Anthony Davis (New Orleans)
-Kevin Durant (Golden State)
-Kyrie Irving (Boston)
Coach-Dwayne Casey (Toronto Raptors)
Reserves
-John Wall (Washington) (Now replaced due to injury by Andre Drummond) (Detroit)
-Kevin Love (Cleveland) (Now replaced due to injury by Goran Dragic) (Miami)
-Russel Westbrook (Oklahoma)
-Kristaps Porzingis (New-York)
-Victor Oladipo (Indiana)
-LaMarcus Aldridge (San Antonio)
-Bradley Beal (Washington)
Representing The Western Conference Starters this year are
-Stephen Curry (Golden State) Team Captain
-DeMar DeRozan (Toronto)
-Giannis Antetokounmpo (Milwaukee)
-Joel Embiid (Philadelphia)
-James Harden (Houston)
Coach-Mike D'Antoni (Houston Rockets)
Reserves
-Al Holford (Boston)
-Draymond Green (Golden State)
-Jimmy Butler (Minnesota)
-Kyle Lowry (Toronto)
-Damian Lillard (Portland)
-Karl-Anthony Towns (Minnesota)
-Klay Thompson (Golden State)
Now which side will claim "King Of The Court" come Sunday night February 18, 2018 in La La Land?
Blaze
On The Watch "It's All About The 67th 2018 NBA All-Star Game"