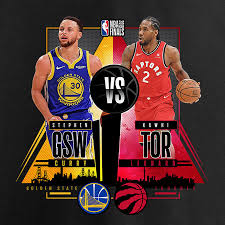 NBA FINALS 2019
This is history in the making. Our own Canadian team the Toronto Raptors went toe to toe with the No. 1 team in the league, The Milwaukee Bucks in the Eastern Conference Finals. Our Raptors were down 2-0 to turning things around and winning the series 4-2. It wasn't an easy task but them Raptors played their hearts out and laid it all on the court and mentally and physically dismantled the Bucks in a very convincing fashion. The Raptors' resilience on offence and defence was next to none and for that, Toronto became the first Canadian team to reach NBA Finals. These Raptors have a complete squad who are geared up to do battle against the best of the best. The addition of Kawhi Leonard has improved this team dramatically and definitely gave them a different swag that is clearly paying off.
The Raptors have passed every test on the Eastern side but the biggest and final test of them all awaits them in the form of the Western Conference three-time Defending Champions Golden State Warriors. The Warriors aren't at full strength coming into the NBA Finals but they still own the rights to the Throne until proven otherwise. That being said, the Warriors are once again chasing history. Being able to three-peat is a rare feat and if they were to accomplish that, their legacy would speak volumes.
In the public's eyes, the Warriors are now viewed as the more vulnerable team since the Raptors' momentum is on a high. This will be the Warriors fifth trip to the Finals in the last five seasons to the Raptors first time under the brightest lights and the biggest stage of their existence. The pressure will be high for both teams but I can't front, the familiar grounds and the experience that the Warriors carry make it real hard to go against the Defending Champs. If the Raptors want to continue writing their names in the history books, they will have to take the Crown from the Warriors.
So, tune in Thursday night, May 30, 2019 for Game 1 in Toronto at the Scotiabank Arena, which will become the first city outside of the United States to entertain an NBA Finals game.
Blaze
On The Watch "It's All About The NBA FINALS 2019"