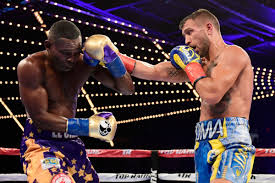 Super-Featherweight Championship
What was believed to be the most anticipated fight of the year turned out to be a one-sided affair between Vasyl Lomanchenko (10-1, 8 Kos) and Guillermo Rigondeaux (17-1, 11Kos, 1NC).
I know that anything can happen in a boxing ring but real talk, when you have two 2 Time Olympic Champions going at it inside that squared circle you expect firework! No Mas was not what I expected from Guillermo Rigondeaux.
Vasyl brought his "A" game last night but to say that Rigondeaux did the same is an understatement. The first two rounds started out like a chess match where both fighters were testing each other unsure of their next move, but from the 3rd round to the 6th round things didn't look right for Rigondeaux. Vasyl started having his way being the aggressor with Rigondeaux without any real resistance from him. Now both fighters are supposed to be warriors with exceptional skills set to go toe-to-toe with anybody, no excuses! I was baffled when Rigondeaux decided to retire on his stool after the 6th rounds. Speechless! All that trash talking with all that hype only to have the bout end in a technical knockout due to an alleged injury suffered to Rigondeaux.
With that being said, history was still made last night at The Theater at Madison Square Garden. Lomanchenko walked it like he talked it and retained his WBO Super Featherweight Title and won the first ever-professional bout between a pair of Two-Time Olympic gold medalists.
Congratulations are in order to the superior Olympian Vasyl Lomanchenko.
Your thoughts on this one?
Blaze
On The Watch "Its All About Vasyl Lomachenko vs Guillermo Rigondeaux"