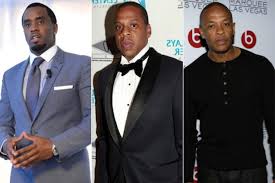 Forbes Hip Hop's Top 5 Wealthiest Artists
This year's Top Cash Cream Money Earner in the "I Get Money Club" to date is once again Mr. "No Sleep" himself Puff Daddy. Mr. Combs has kept a strong hold on the top spot for 4 years straight right now and judging by his latest venture "Revolt TV" Diddy has no plans of falling asleep on the job any time soon. His estimated Net Worth clock in at $650 Million. With that being said Puff becomes the first Rapper in history to crack the $600 Million Net Worth mark. Congratulation for that special achievement Big Homey!
Breathing down Puff's neck for the 2nd spot is my Boy Jay with his estimated Net Worth $550 Million. With his latest venture being Roc Nation Sports Agency, Jay is showing us once again "He will not lose". Aiming for that No. 1 spot is still a Hustlers Ambition.
Holding down the No. 3 spot is the Dr. himself Dre with his estimated Net Worth $450 Million. Aside from his production, Beats By Dre is the goldmine behind all his good fortune and REAL TALK! Business has been very profitable for the good Dr.
Master P is back on the scene and claiming the No. 4 spot after rejuvenating back his rap career. P is one of the originators who spent many years on the "I Get Money Club" with many profitable business ventures under his belt. His estimated Net Worth $350 Million.
Closing out the No. 5 spot is your Boy 50 Cent coming in with a cool $270 Million Net Worth. His hunger and Animal Ambition to succeed is one of the key factors why Fif stays grinding on the "I Get Money Club" and steady climbing year after year.
I Salute each and every member for the hard work they put it cause they all "Started From The Bottom" to now being Leaders of the Hip Hop Money Mountain in the Game.
Blaze
On The Watch "It's All About Forbes Hip Hop's Top 5 Wealthiest Artists"