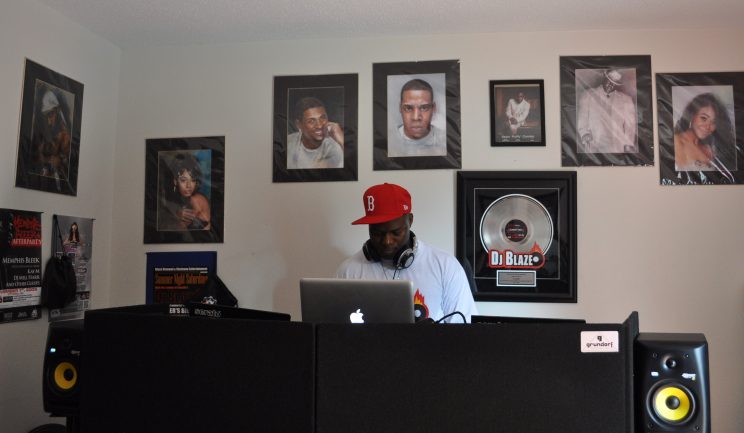 THE HYPE MAGAZINE Interviews CANADA'S DJ BLAZE
What is the significance of your name and how did you get that name?
I got my name back in the day when I was playing Ball on them courts in my college days. They use to say that I was BLAZIN IT UP whenever I step on the court so that name just stuck with me cause I do the same when I'm on them "12′s"
Describe your style?
My style might be different from the norm considering I don't like to scream and shout on the mic…I like to let my music do the talking for me. I'm pretty versatile on them "12′s" and I can "bob and weave" with the best of them when it comes to the music game. I try not to stay in a box and keep things moving depending on the vibe or the city I'm in.
What was the first record you start scratching and mixing on the turntables?
First off I'm not a trick DJ, that's not my thing but REAL TALK! my first record I started scratching with was Audio Two's Top Billin…that beat on that track was just ridiculous…
Describe the hip-hop scene in your city?
The Hip-Hop scene in my city is poppin…there's definitely a liking to the underground judging by the various acts that have come through the city to date.
What other artists have you had the opportunity to work with?
I've had the opportunity to spin along side a few Heavy Hitters of the likes of Big Kap, DJ Ace (New York), DJ G.I (Sproty Thievz) Max Glazer and NYC's DJ Mell Starr just to name a few.
Who and what are your influences?
My brother DJ Rudeboy, Kid Capri, Jay-Z the culture, the love of music and the whole scene of it all are some of the influences that helped shape me into the DJ I am today and of course "I Likes to Move the Crowd".
What should people expect from your upcoming projects?
Expect the unexpected from me cause when the vibe s just right my creativity just takes its course and my best work is usually is the end result.
What artists are you listening to right now?
My Man Jay-Z, Rick Ross, French Montana, Ace Hood…. just to name a few right now….
Who would you like to work with in the future?
I would like to work with DJ Kid Capri.

What would be the steps you would take as a DJ to Break a artists?
Depending on the style or genre of music I would mix it in with what's popping right now in some of my Blazinone.com mixes…drop it at the clubs during that Hype point of the night…. plug it in on the suggested tracks section on Blazinone.com. Do a write up about the up and coming artist on my what's Hot section and depending on the artist get a face to face interview or phone interview, and keep it moving from there…
Are you currently with a radio station or DJ Club?
I did do the college radio thing way back, but now its all about the platform that my partner and I created to present myself and my work to the world on www.blazinone.com. There you can find some of my HEAT BANGER sets, TAKEOVER set and NIGHT CLUB OF THE FUTURE sets throughout the months. I also have a "Suggested Track" section for new or popping artists that I like. A "What's Hot" section where I like to post some of the things I like, and I also do write ups about artists that inspire me. I also have the "Video" section of some of my favorite videos to date. I still do clubs all over whenever the business is "right" that is….
Is there anything you would like our readers to know?
I am CANADA'S DJ BLAZE! If you haven't heard of me yet then you need to keep your ears and eyes open cause MY TIME IS COMING!!! Blazinone.com #DONTBASLEEPER TUNE IN
Last but not least, HYPE wants to know…What's your CRAZIEST "Where they do that at?!"
REAL TALK! I don't think I've experience that moment yet but whenever that call from Europe comes in for the right booking, then that will definitely be my CRAZIEST moment to date…
Interviewed By: Just Jay
THE HYPE MAGAZINE
http://thehypemagazine.blogspot.ca/2013/06/the-hype-magazine-interview-wdj-blaze.html?q=dj+blaze
On The Watch "It's All About Just Jay From THE HYPE MAGAZINE Interview With Dj Blaze