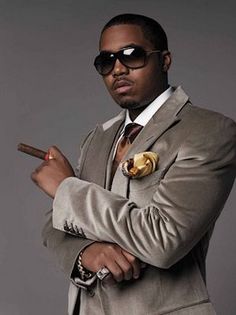 It's been 2 decades since Nas first dropped his then classic LP Illmatic. No critics or peers could have ever predicted that this young kid from the Queensbridge project would have came out the gates with such an impact that the opposition had no choice but to embrace the slick talking, story telling, young hustler, new breed on the block shaking the game while gunning for that No. 1 Spot.
Nas put Queensbridge back on the map and never looked back. REAL TALK! The music industry heads started to pay attention and in no time Nas became every Rappers favorite Rapper from the mid-90s till today. His savvy delivery on the mic along with his New York swag, attracted all the hot hit makers in the game from the likes of Dr. Dre, Timbaland, DJ Premier, Swizz Beats, L.E.S., just to name a few. REAL TALK!
When it comes to who's the best you ever heard; Nas is often mentioned amongst the top "Dead or Alive" to ever do it this good. With 9 LP's under his belt and over 13 million records sold, Nas is gearing up to drop his 10th solo LP called "Life Is Good" which is slated to come out this summer.
Until then peep my DJ Blaze/Nas Takeover Set and see why Nas withstood the test of time.
Blaze
On The Watch "It's All About Nas"