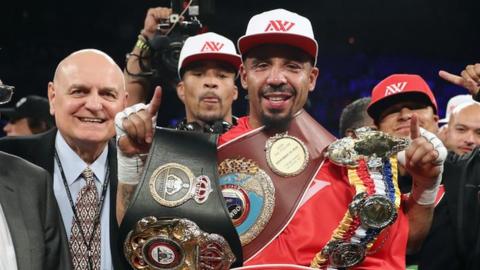 After a so-called controversy on the scorecards from their first go around, Andre Ward (32-0, 16 KOs) once again stayed true to himself and vowed to beat Sergey Kovalev (30-2-1, 26 KOs) in a far more decisive way and keep the Judges out of it. On Saturday night June 17 2017, Andre S.O.G. Ward did what many thought was probably an impossible task and that was to stop Sergey Kovalev. REAL TALK!
Andre stepped his game up and put the "paws" on him in the eight round and "Bodied" Kovalev literally to a point where Kovalev was hurt and had stopped defending himself in which at this point the referee jumped in and stop the fight without a standing 8 count. Now people will complain about the early stoppage and the borderline body shot, but truth be told Ward worked Kovelev over and over in such a defiant fashion you gotta give Ward his props for doing what many could have never imagined happening to Kovalev and that's stopping the "Krusher" for the first time in his career. REAL TALK!
The Pound-For-Pound List better have your Boy Ward as the No.1 Dude after this fight cause your Boy been talking it and walking it like the Champ that he is from Day 1. Now with that being said I gotta keep it real. Andre Ward is still the "Light Heavyweight Champion" holding the IBF/WBA/WBO but to me I feel to really silence the critics about who's "One Of The Best To Ever Do It" in this Division, Ward needs to holla at Adonis "Superman" Stevenson the Linear WBC Champ and "Unify" all the Belts. Winner takes all and becomes truly the" Undisputed Light Heavyweight Champion" of the World.
The time is right. "S.O.G." Ward vs "Superman" Stevenson. Who really want it like that? Your thoughts on this one?
Blaze
On The Watch "It's All About The Champ Is Here!"