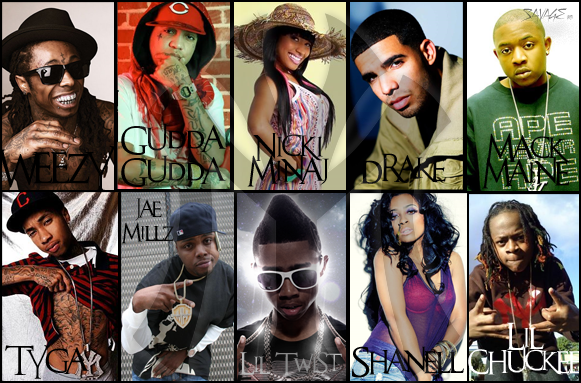 Young Money is an Army, straight up! These Kats over there or built different, they grind hard and it shows in the way they follow their boss Weezy's lead. The year 2010 that just passed was a real good year for the camp. Drake's "Thank Me Later",Lil Wayne's "Rebirth" and "I Am Not A Human Being" all were part of the top 10 highest 2010 hip hop album sales.
It's only fitting that the New Year 2011 started out right for another member of the camp by the name of Nicki Minaj who recently released her LP "Pink Friday" which debuted at number 2 on the Billboard Hot 200 Album Chart, and as been certified platinum as of January 5, 2011. This camp is very talented and competitive within itself.
Young Money artists get play just about everywhere nowadays; the clubs and the radio are just killing it with hits that this camp is bringing out. With new members already being added to the young label, 2011 could be another chart topping year for the team. REAL TALK! Check out my DJ Blaze/Young Money Takeover Set on my mixtapes section.
Blaze
On The Watch "Young Money"